As seen on – UnSpy – For Liberty!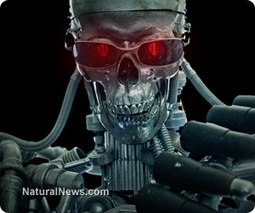 Quantum computers are not made of simple transistors and logic gates like the CPU on your PC. They don't even function in ways that seem rational to a typical computing engineer. Almost magically, quantum computers take logarithmic problems and transform them into "flat" computations whose answers seem to appear from an alternate dimension.
Now imagine the god-like powers of a 512-qubit quantum computer in the hands of Google, which is working with the NSA to spy on everyone. Before long, an AI computing system decides who are the bad guys vs. the good guys. It has total control over every webcam, every microphone, every traffic light, airplane, vehicle, website and electronic billboard. It decides for itself who to eliminate and who to protect. It makes life and death decisions but has no heart, no soul and no conscience.
Learn more: http://www.naturalnews.com/040859_Skynet_quantum_computing_D-Wave_Systems.html#ixzz2Wmd2l52P
unspy's insight:
This is a real interesting read!
See on www.naturalnews.com