See on Scoop.it – UnSpy – For Liberty!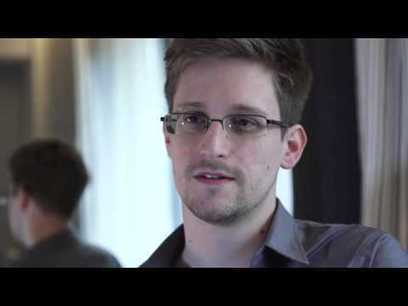 See on www.youtube.com
The 29-year-old source behind the biggest intelligence leak in the NSA's history explains his motives, his uncertain future and why he never intended on hiding in the shadows
http://www.guardian.co.uk/world/2013/jun/09/edward-snowden-nsa-whistleblower-surveillance
As strong as those beliefs are, there still remains the question: why did he do it? Giving up his freedom and a privileged lifestyle? "There are more important things than money. If I were motivated by money, I could have sold these documents to any number of countries and gotten very rich."
For him, it is a matter of principle. "The government has granted itself power it is not entitled to. There is no public oversight. The result is people like myself have the latitude to go further than they are allowed to," he said.
His allegiance to internet freedom is reflected in the stickers on his laptop: "I support Online Rights: Electronic Frontier Foundation," reads one. Another hails the online organisation offering anonymity, the Tor Project.
Asked by reporters to establish his authenticity to ensure he is not some fantasist, he laid bare, without hesitation, his personal details, from his social security number to his CIA ID and his expired diplomatic passport. There is no shiftiness. Ask him about anything in his personal life and he will answer.
He is quiet, smart, easy-going and self-effacing. A master on computers, he seemed happiest when talking about the technical side of surveillance, at a level of detail comprehensible probably only to fellow communication specialists. But he showed intense passion when talking about the value of privacy and how he felt it was being steadily eroded by the behaviour of the intelligence services.
His manner was calm and relaxed but he has been understandably twitchy since he went into hiding, waiting for the knock on the hotel door. A fire alarm goes off. "That has not happened before," he said, betraying anxiety wondering if was real, a test or a CIA ploy to get him out onto the street.
Strewn about the side of his bed are his suitcase, a plate with the remains of room-service breakfast, and a copy of Angler, the biography of former vice-president Dick Cheney.
Ever since last week's news stories began to appear in the Guardian, Snowden has vigilantly watched TV and read the internet to see the effects of his choices. He seemed satisfied that the debate he longed to provoke was finally taking place.
He lay, propped up against pillows, watching CNN's Wolf Blitzer ask a discussion panel about government intrusion if they had any idea who the leaker was. From 8,000 miles away, the leaker looked on impassively, not even indulging in a wry smile.
Snowden said that he admires both Ellsberg and Manning, but argues that there is one important distinction between himself and the army private, whose trial coincidentally began the week Snowden's leaks began to make news.
"I carefully evaluated every single document I disclosed to ensure that each was legitimately in the public interest," he said. "There are all sorts of documents that would have made a big impact that I didn't turn over, because harming people isn't my goal. Transparency is."
Was NSA Whistleblower Edward Snowden a Ron Paul Supporter?
Evidence to that effect can be found in a contribution receipt report filed by the Ron Paul 2012 Presidential Campaign Committee Inc., which shows a $250 contribution received from an Edward Snowden who also has a Hawaii address.
If this is indeed the same Edward Snowden who is behind the leaks reported by The Guardian's Glenn Greenwald over the course of the last few days, it would give some additional insight into, and context around, what motivated him to come forward.
Ron Paul supporters, of course, are known for their principled opposition to the encroachment on civil liberties by an ever-expanding government. Few could possibly be in a better position to intimately understand just how far extreme this encroachment has become than Edward Snowden; and still fewer in a better position to actually do something about it.
Here are snapshots from the contribution receipt report:
See the original full page on the FEC website by clicking here.
Update: OpenSecrets.org reflects the contribution as well:
(via commenter Jon at DailyPaul.com)
Boom. Explosive revelations. The NSA is using telecom giants to spy on anybody and everybody, in a program called PRISM.
But the information is not new.
Three books have been written about the super-secret NSA, and James Bamford has written them all.
In 2008, Amy Goodman of Democracy Now interviewed Bamford as his latest book, The Shadow Factory, was being released.
Bamford explained that, in the 1990s, everything changed for NSA. Previously, they'd been able to intercept electronic communications by using big dishes to capture what was coming down to Earth from telecom satellites.
But with the shift to fiber-optic cables, NSA was shut out. So they devised new methods.
For example, they set up a secret spy room at an AT&T office in San Francisco. NSA installed new equipment that enabled them to tap into the fiber-optic cables and suck up all traffic.
How Bamford describes this, in 2008, tells you exactly where the PRISM program came from:
"NSA began making these agreements with AT&T and other companies, and that in order to get access to the actual cables, they had to build these secret rooms in these buildings.
"So what would happen would be the communications on the cables would come into the building, and then the cable would go to this thing called a splitter box, which was a box that had something that was similar to a prism, a glass prism.
"And the prism was shaped like a prism, and the light signals would come in, and they'd be split by the prism. And one copy of the light signal would go off to where it was supposed to be going in the telecom system, and the other half, this new cloned copy of the cables, would actually go one floor below to NSA's secret room.
"… And in the secret room was equipment by a private company called Narus, the very small company hardly anybody has ever heard of that created the hardware and the software to analyze these cables and then pick out the targets NSA is looking for and then forward the targeted communications onto NSA headquarters."
In James Bamford's 2008 interview, he mentions two Israeli companies, Narus and Verint, that almost nobody knew about. They played a key role in developing and selling the technology that allowed NSA to deploy its PRISM spying program:
Bamford: "Yeah. There's two major — or not major, they're small companies, but they service the two major telecom companies. This company, Narus, which was founded in Israel and has large Israel connections, does the — basically the tapping of the communications on AT&T. And Verizon chose another company, ironically also founded in Israel and largely controlled by and developed by people in Israel called Verint.
"So these two companies specialize in what's known as mass surveillance. Their literature — I read this literature from Verint, for example — is supposed to only go to intelligence agencies and so forth, and it says, 'We specialize in mass surveillance,' and that's what they do.
"They put [this] mass surveillance equipment in these facilities. So you have AT&T, for example, that, you know, considers it's their job to get messages from one person to another, not tapping into messages, and you get the NSA that says, we want, you know, copies of all this. So that's where these [two Israeli] companies come in. These companies act as the intermediary basically between the telecom companies and the NSA."